In response to the Coronavirus, one major urgency: equipping every ambulance, and every Emergency Department with an Ultra-Portable Ultrasound Scanner.
It is a question of saving lives
Thanks to their ultra-portable ultrasound scanners, Emergency Care physicians can make a quick and reliable diagnosis of each patient's situation and immediately choose the best treatment. The most severely ill patients will be immediately transferred to Critical Care Units, and the less-urgent health problems can be treated at the hospital or at home.
This rapid diagnosis constitutes an essential point: the most severe and urgent cases can be transferred and treated faster, and the already overloaded Emergency Departments in the hospitals will save time by treating only the most urgent cases.
A lower level of contamination: because of an immediate, on-spot ultrasound exam, unnecessary circulation of patients is avoided, and the risk of contamination is reduced for patients with less serious health issues, but who are often fragile. This contributes to an essential obje ctive of our Public Health Safety Guidelines.
There is urgency: all ambulances and all Emergency Services must be immediately equipped with ultraportable ultrasound scanners to be able to assure proper treatment for Coronavirus victims.
Several hospitals and SMUR (Emergency Paramedic Teams) have already decided to equip their services with Sonoscanner
20 renowned French Emergency Services with our ultra-portable ultrasound scanner, specialized in pulmonary and Emergency: Lille (a reference in the field), Poitiers, La Rochelle, Verdun… Some of these hospitals have made urgent new orders for more scanners, having been overwhelmed by the number of sick patients recently arriving; other medical structures have anticipated and have now ordered supplementary devices to meet the predicted influx of sick.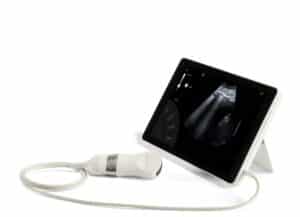 Ultra-portable ultrasound scanner with a pulmonary transducer
and a pulmonary imaging mode.
This configuration enables you to distinguish the characteristic B-lines,
the pleural line and early effusion.
Sonoscanner has developed an Emergency Plan for Ultrasound
To respond to the Public Health Authority's objective, Sonoscanner has implemented a program targeting a rapid increase of the use of ultra-portable ultrasound by facilitating 3 key steps:
Acquisition of an ultrasound scanner: an offer of exceptional financial purchase conditions,
Installation of the scanner: simplified administrative formalities (possible exemptions even),
Training on the device: done remotely without charge
Committed to go even further, Sonoscanner has decided to contribute 150€ to the Fédération Hospitalière de France (FHF) for each ultrasound unit purchased and installed. This Association takes care of the hospital personnel, and their needs in times of crisis like this are considerable.
Our Objective in the Short-term
Every single ambulance, every single Emergency Service must be equipped with an Ultrasound Device specific for pulmonary and emergency ultrasound exams. Everything is ready. We must act now!
Click on the technical data sheet and the order form below to download it.
CONTACT
Emergency telephone number: +33 (0)6 75 60 55 97
Contact: Mr. Etienne RICHARD, International Coordinator
etienne.richard@sonoscanner.com