Ultrasound Machine: Sonoscanner, Premium Diagnostic Ultrasound
A full range of outstanding performance ultrasounds
Ultraportable - Portable - Stationary

More than 6,400 ultrasound scanners in more than 56 countries
We chose Sonoscanner for our tests in space. The ergonomics stand out, along with the portability and the excellent quality of the images.
I have discovered ultrasound, and now fully use it in my practice. Ultrasound enables me to do immediate and more accurate diagnoses
With the U-Lite, you have a scanner equipped with a veritable computer, allowing you to carry out any measures you need with the help of complex algorithms
I am the lucky owner of a Sonoscanner Orcheo Lite and I am very happy to work with it in my daily work. I have worked with it for 3-4 years and I do all kind of scanning.

IMAGE QUALITY
The Sonoscanner Ultrasounds have an exceptional full HD image quality, allowing you to make detailed and accurate diagnoses.

PORTABILITY
Our Ultrasounds are easy to take along, always at your fingertips when needed.

ERGONOMICS
Designed and developed for you, the Sonoscanner Ultrasounds are simple to use, and adapt to your daily practice needs.

CUSTOMER SERVICE
With a 96 % satisfaction rate, our Customer Service will accompany you and train you in the best way to use your Sonoscanner Ultrasound.
a complete range of innovative ultrasound scanners
U-Lite PRO: premium handheld ultrasound scanner
A revolution in ultrasound thanks to its image quality, reactivity and ease of use.
7″ HD Color Touch Screen
Exceptional Image Quality
Optimal Portability (600 g.)
Quick Start: 12 seconds
Battery Autonomy : 4h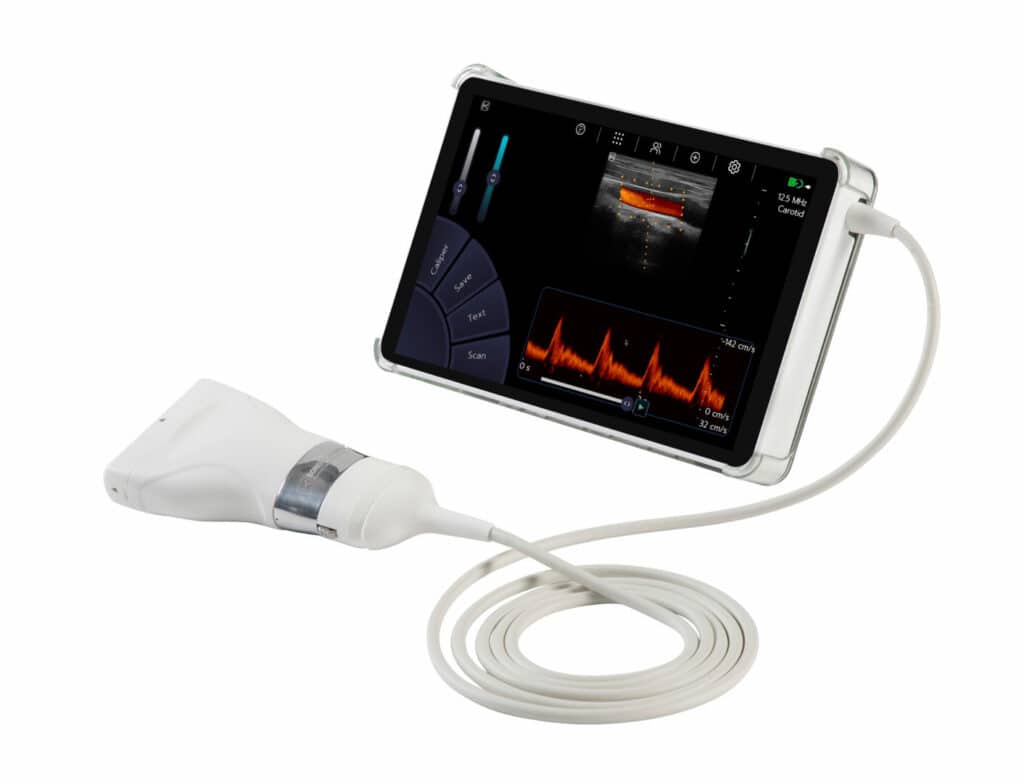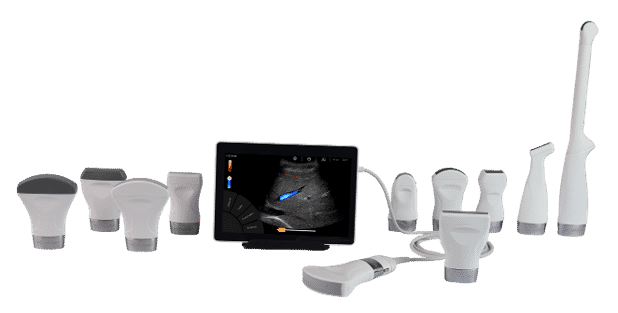 U-Lite handheld ultrasound: ultraportable, ultra-performing
Simple and intuitive, it is ideal for use in the practice or on the field.
7″ HD Color Touch Screen
Exceptional Image Quality
Optimal Portability (700 g.)
Immediate Boot-Up: 10 seconds
Battery Autonomy: 2h30
T-Lite Ultraportable Ultrasound: the HD Tablet
The T-Lite ultraportable ultrasound scanner offers you, in tablet format, HD image quality combined with the features of the largest devices!
10″ HD Color Touch Screen
Weight: 1 Kg
Battery Autonomy: 3h
Immediate Boot-Up: 10 seconds
11 Probes Available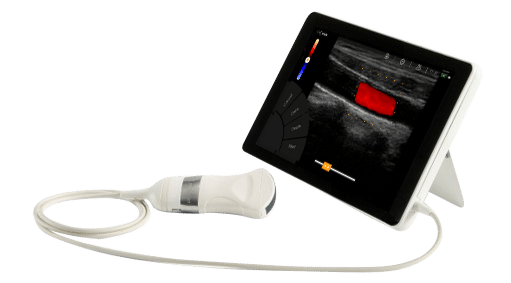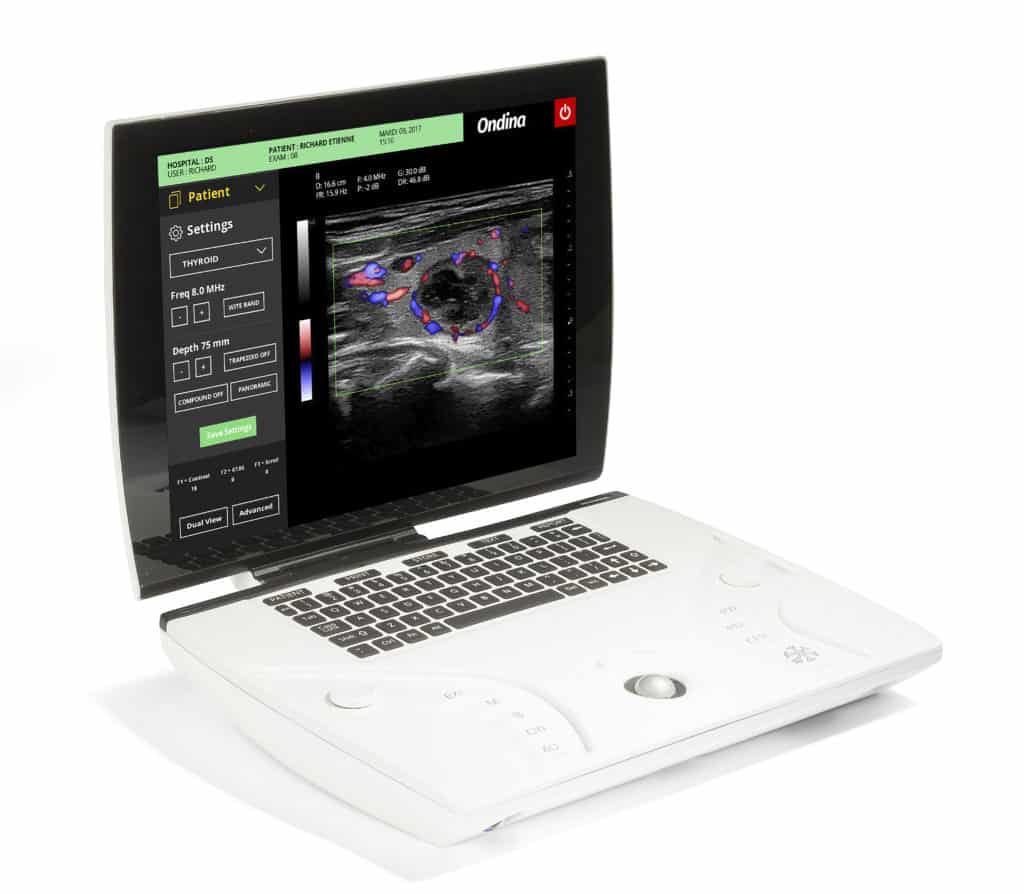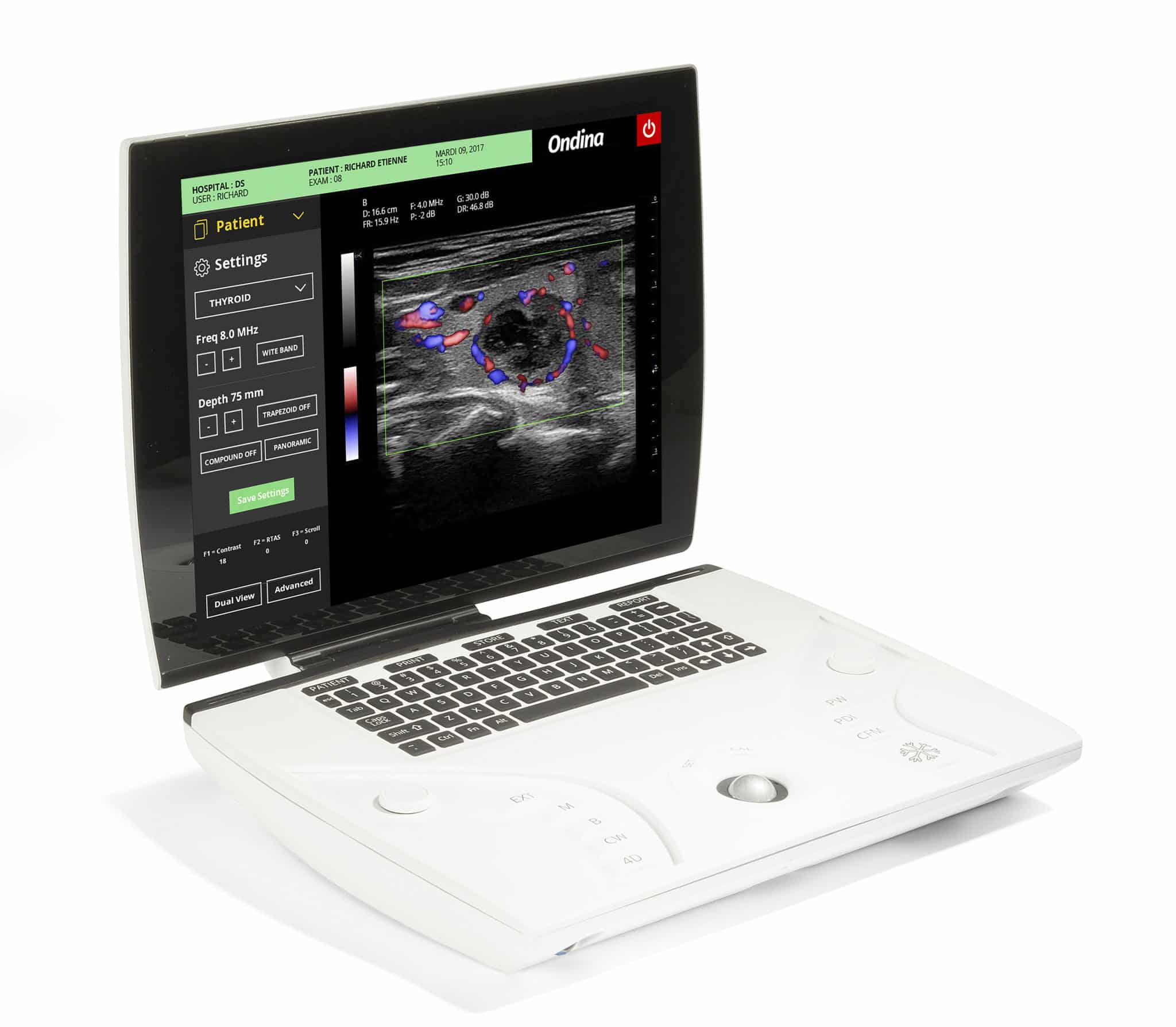 Ondina portable ultrasound scanner: the new generation of hybrid ultrasound scanners
The Ondina concentrates all the latest innovations made in France : hybrid interface, IA Ready, Auto tune…
Full HD 15″ touch screen
Weight: 4.6 kg.
Battery Autonomy: 1h30
Fast Boot-Up: 20 seconds
Customizable settings
IA Ready : Automatic measurements
Portable ultrasound scanner orcheo Lite : An ultrasound scanner that suits your needs
Combining high technical performance and multiple features in a transportable format, the Orcheo Lite is the daily partner for demanding practices.
Numerous features and advanced imaging modes,
15″ HD LCD screen,
Automatic report generation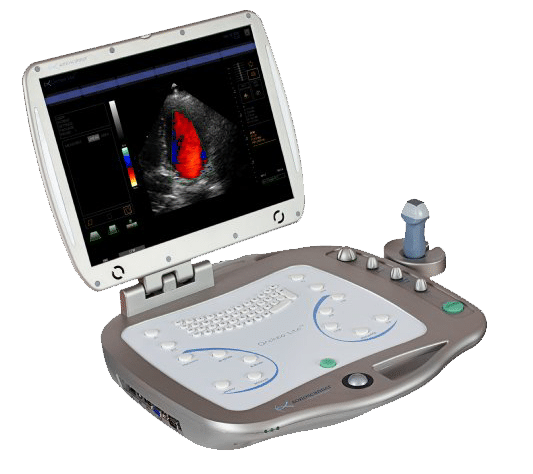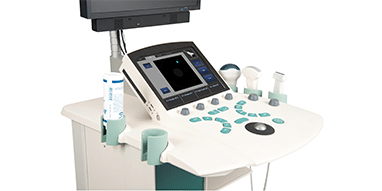 Orcheo XQ stationary ultrasound system: the ultrasound system for the most demanding clinical environments
Exceptional power for unparalleled computing speed,
Comfortable and intuitive operation adapted to repeated use,
High resolution 21″ LED display
The Orcheo XQ, adopted by specialists in many fields, meets the most advanced needs.
A question, a request? Please write us

6, rue André Voguet 75 013 PARIS - France

+33 9 54 97 15 57

contact@sonoscanner.com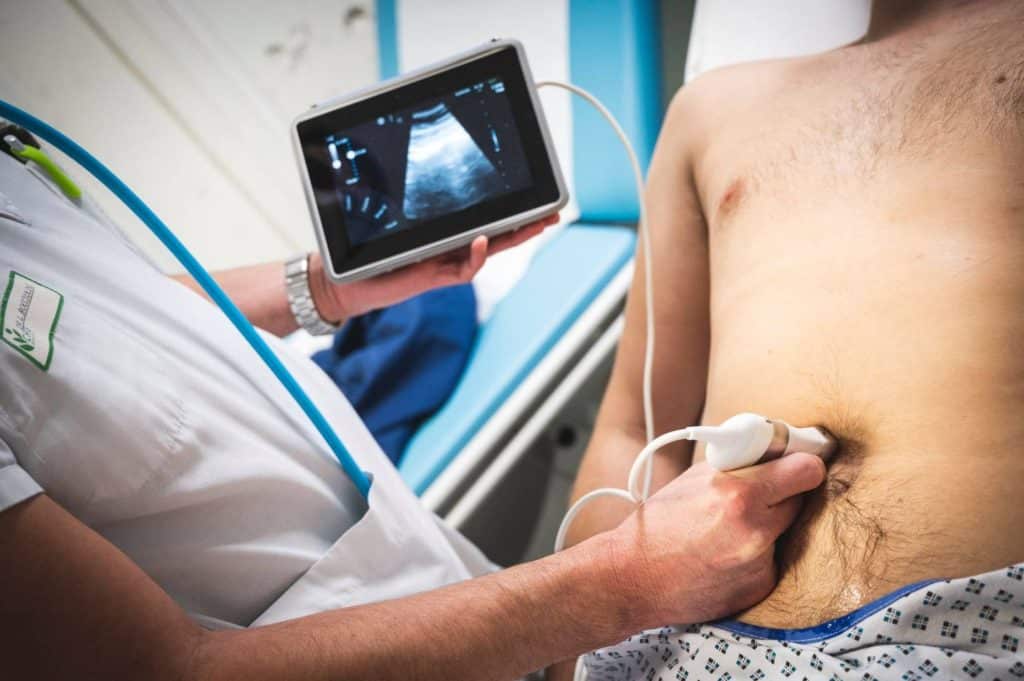 Sonoscanner was created by and for physicians. Sonoscanner ultrasound scanners are particularly well known for their image quality, functionality and compactness.
Currently, more than 6,400 doctors are practicing ultrasound with Sonoscanner, in more than 56 countries around the world (France, Spain, Italy, Finland, Ukraine, the United States, Australia, etc.).
Sonoscanner technology has been chosen by CNES and NASA for experiments in space (February 2017) and by the French army, because of the portability of the device, the quality of the images and its simplicity of use.
The Sonoscanner line includes five flagship products specifically: the ultraportable U-Lite and T-Lite, the portable ultrasound scanners Orcheo Lite and Ondina and the Orcheo XQ station. For Sonoscanner ultrasound prices, contact us now!
FIND THE ULTRASOUND SCANNER THAT ANSWERS YOUR NEEDS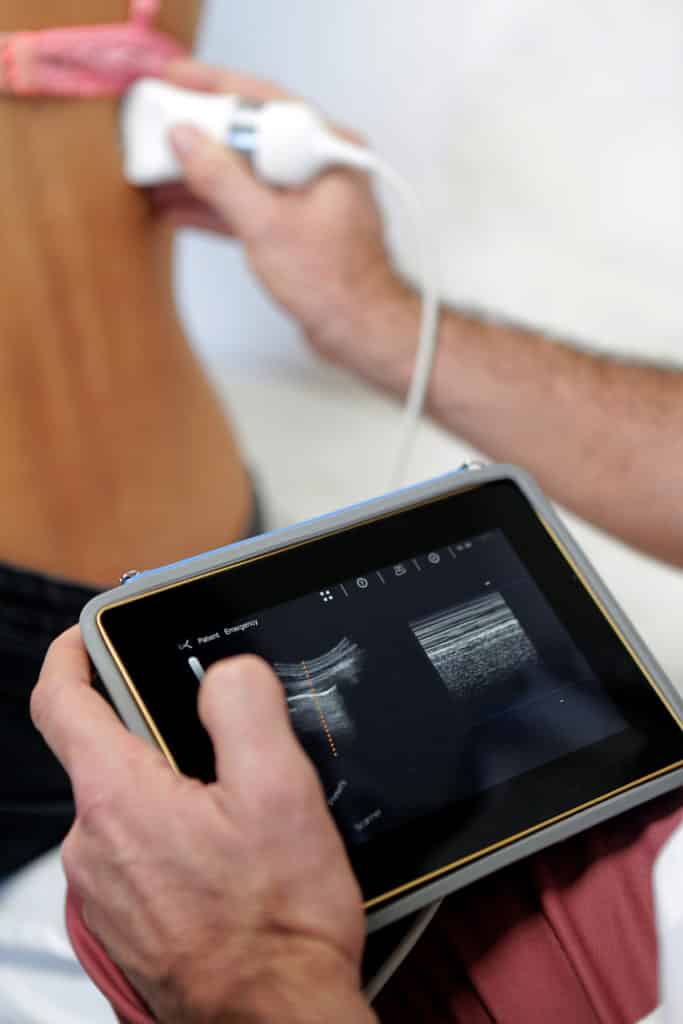 Using the most modern and ergometric functionalities, our Ultrasound Devices offer significant time-saving qualities, while providing you with the best possible imaging quality. According to your needs, our portable Ultrasound Scanner ONDINA & ORCHEO LITE (with an option of transducer connectors) allows you to carry out a Triplex Ultrasound in optimal conditions.
The portable Ultrasound Scanner ORCHEO XQ will guarantee both excellent comfort (a compact system with a high-definition intuitive touch-screen…) and high-quality performance. Our multi-functional scanners are designed to offer the greatest efficiency in many fields including anesthesia, endocrinology, gynecology and even osteoarticular exams. Our different models, with their high-performance transducers, enable today's practitioners to obtain evermore reliable and precise ultrasound results and diagnoses.
Buy your Ultrasound Scanner,
Fully manufactured in France (100%)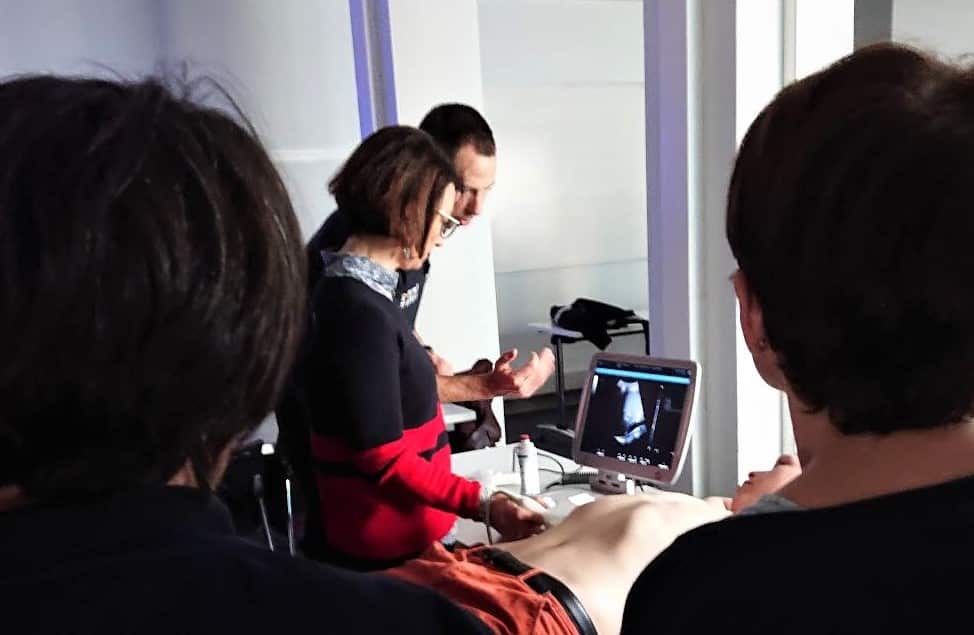 In addition to our guarantees of quality and reliability, we also guarantee a line of products manufactured entirely in France, leaving you no doubt as to their origin. As we work with numerous renowned national and international institutions, our team of developers keeps up to date with the latest innovations in the fields of ultrasound and medical imaging, providing you with the most modern and innovative product offer. Our ultrasound machines solutions will help healthcare professionals to get the best diagnostic (for clinical and medical use) and improve patient experience.
We are at your disposal to advise you in the purchase of your Ultrasound Unit, reassuring you that you will make the right decision. Find the digital equipment ultrasound machine according to your need that will revolutionate your everyday practice !
Contact us to :
Book a free demo,
Request pricing information on our ultraportable ultrasound scanners,
Receive a quote adapted to your project,
Our engineers are at your disposal.