a brand new generation of portable ultrasound scanners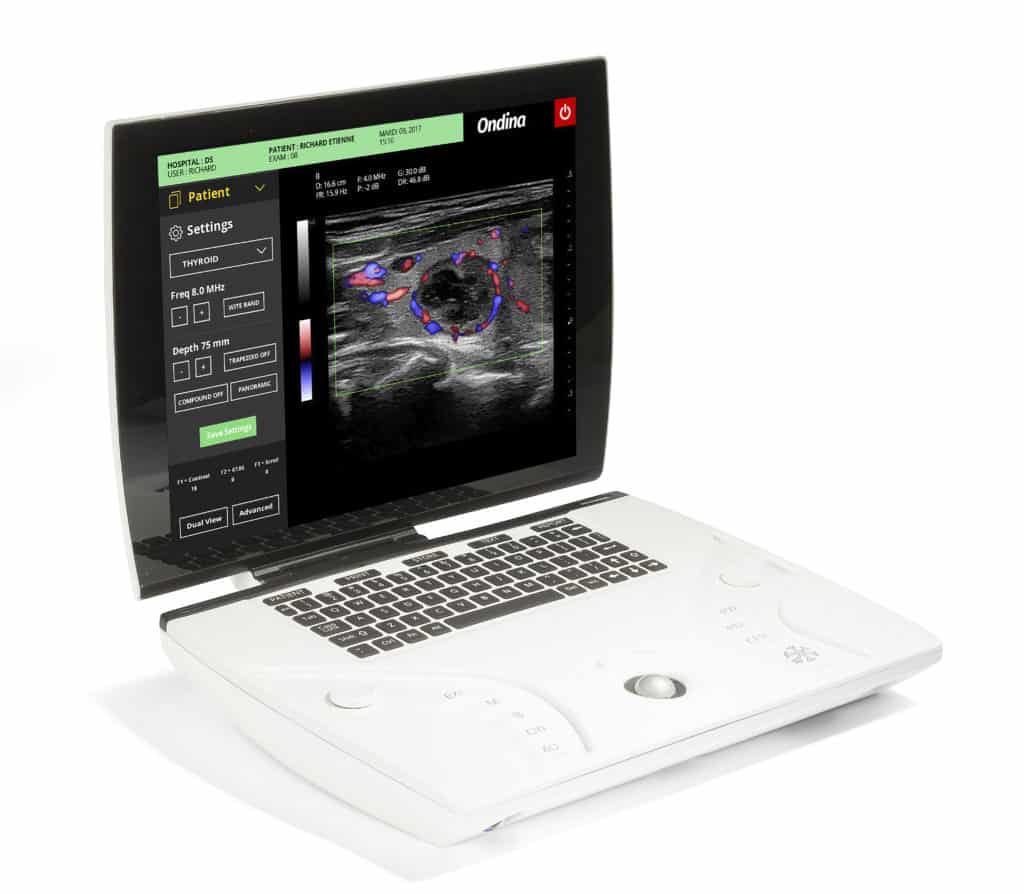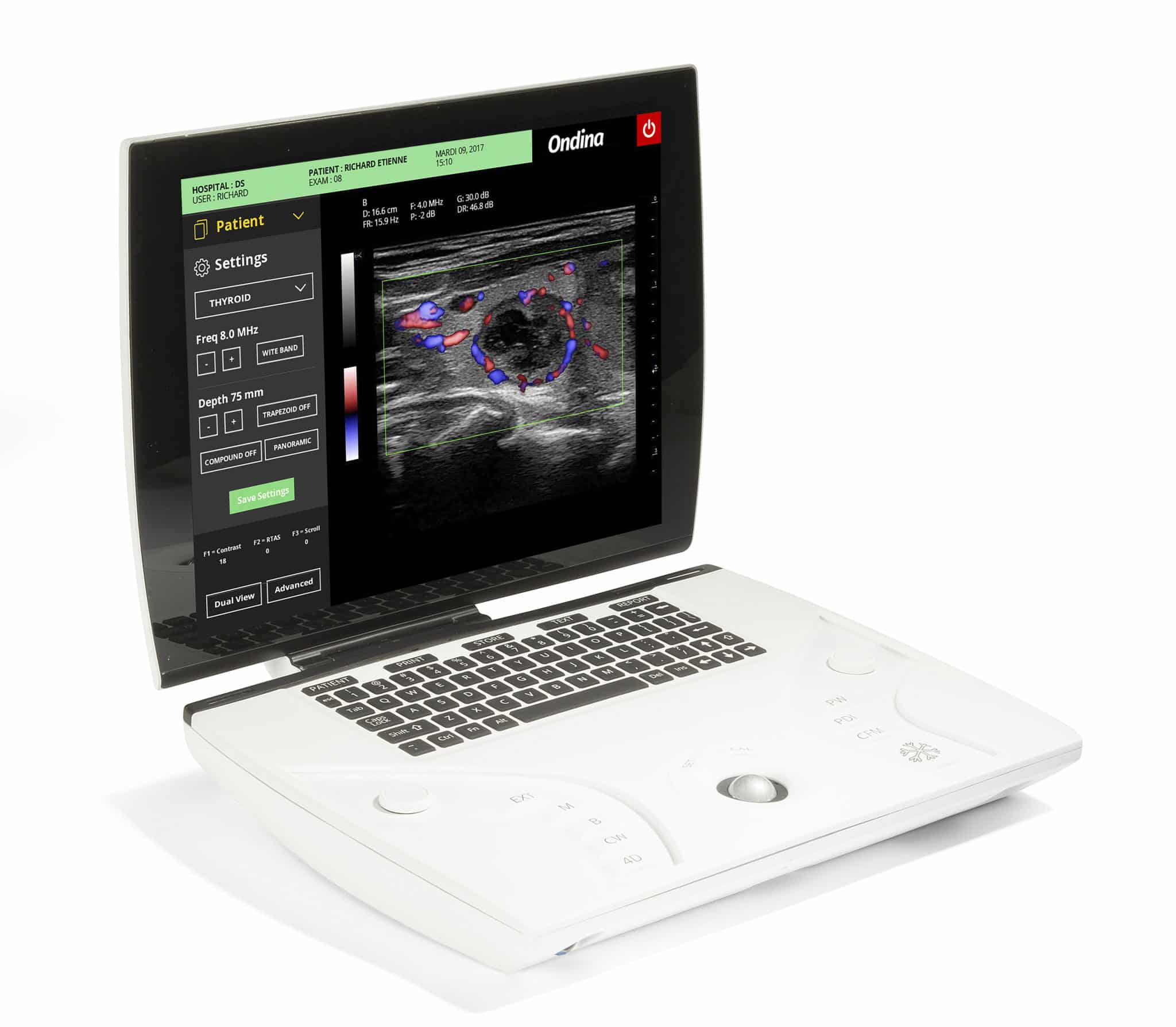 Discover an ultrasound scanner with unique performance
Enjoy the latest generation of portable ultrasound scanners. The Ondina features all the latest innovations : hybrid interface, IA Ready, Auto tune… Developed by physicians for physicians, it guarantees HD images, innovative features, customizable settings, in a portable format.
Make your daily practice easier
The Ondina ultrasound scanner has an unequalled image quality thanks to its 15″ Full HD screen. It is the only ultrasound scanner to have both a touch screen and a trackball keyboard, offering you maximum comfort and immediate reactivity thanks to the touch functions.
The ultrasound scanner starts up in 20 seconds, saving you valuable time during consultations or in the field in an emergency situation. Thanks to the Instant Switch feature, one click on the touch screen is enough to choose between three probes.
Its portable format and its weight of 4.6 kg allow it to adapt to all your needs. In the surgery or hospital, its trolley offers you comfort of use. On the go, it follows you everywhere thanks to its dedicated case.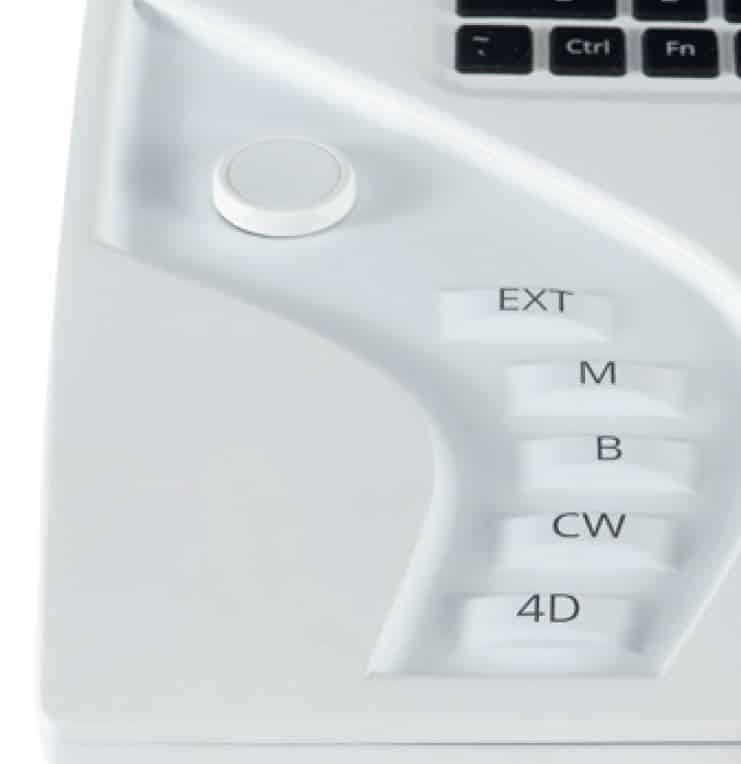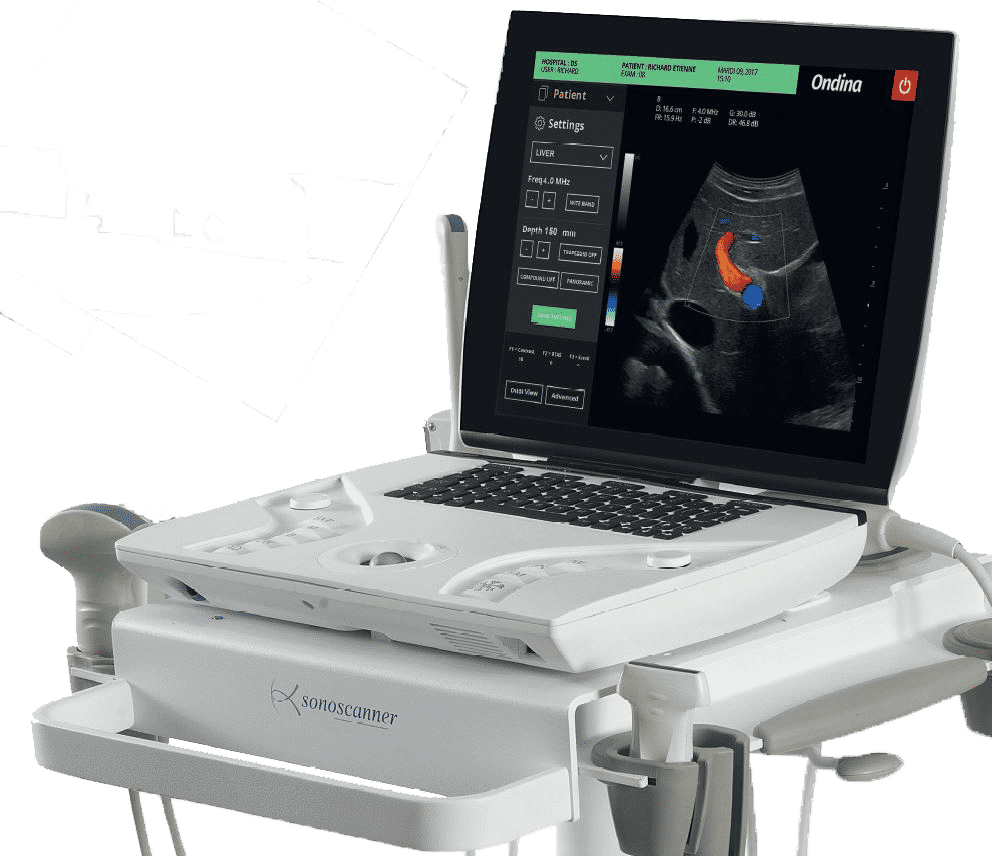 save time through automation
The Ondina ultrasound scanner allows you to automate many measurements thanks to the integration of artificial intelligence adapted to Medicine.
The Nodule Auto AI module ensures automatic detection and measurement of nodules, resulting in a 70% time saving in nodule measurement. Coupled with the EU-Tirads package, thyroid ultrasound becomes standardised.
Artificial intelligence applied to abdominal, soft tissue, obstetric, vascular and cardiac examinations ensures faster, more reproducible and more reliable measurements. The Auto tune function incorporates dynamic floor gain optimisation: with one click, the image is optimised to be perfectly adjusted to suit the characteristics of each patient.
Refine your diagnostics with the performance of the Ondina
The Ondina portable ultrasound scanner offers all modes: B, TM, Duplex and Triplex as well as all Doppler: Pulsed, Colour, Energy, Energy Directional.
To suit your needs, the Ondina can also offer the following options: Continuous Wave Doppler, panoramic, elastography and 3D/4D.
14-bit analogue conversion: the Ondina offers unparalleled tissue differentiation, essential for characterising tissues and highlighting some pathologies.
Probe frequency from 2 to 30 MHz : The Ondina's internal clock, one of the fastest on the market, allows electronic probes to operate at 30 MHz, making every detail of the skin visible. Coupled with the low frequency MHz probes, the Ondina will allow you to scan the entire body with unparalleled accuracy.
The Ondina is powerful but quiet to improve your quality of work (less than 36 dB, the equivalent of a quiet bedroom). Less noise means less fatigue for you and more ease in listening to your patients.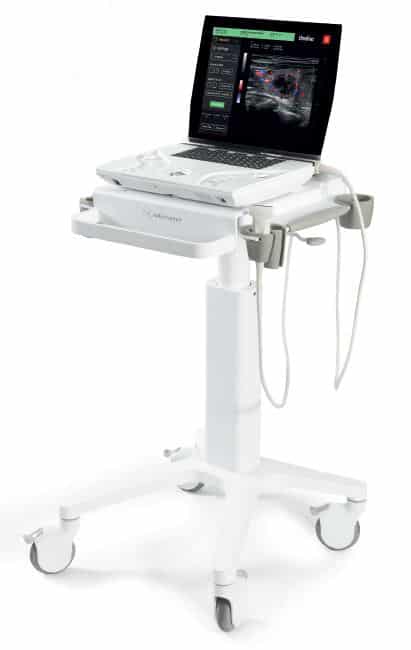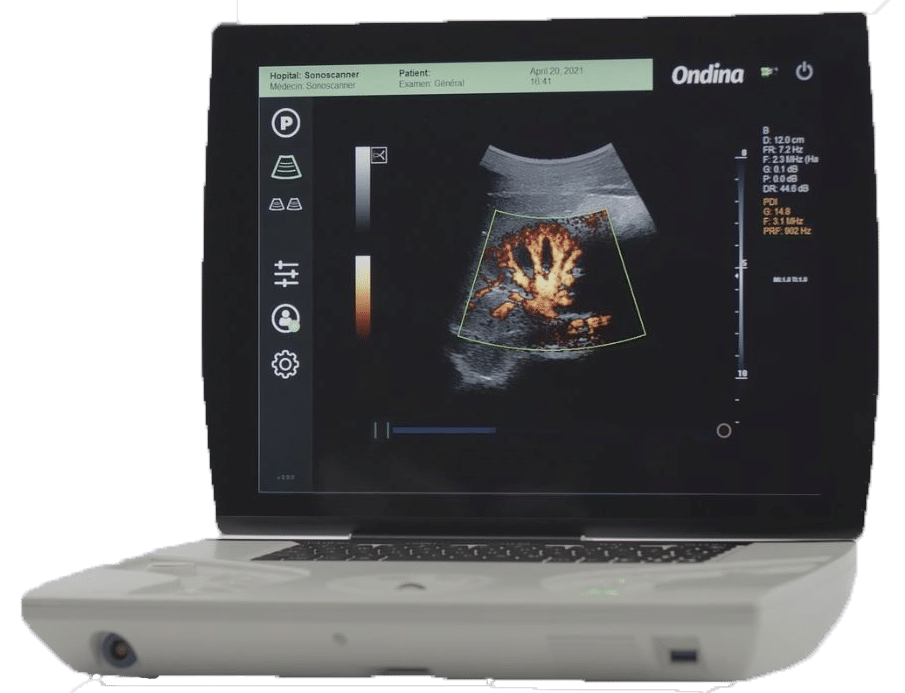 customisable to suit all specialties
The Ondina's settings can be customised to perfectly suit your daily needs.
A wide range of high quality probes promise you increasingly accurate ultrasound examinations.
The portable ultrasound scanner is a powerful daily ally for many specialities: medical emergencies and intensive care, endocrinology, cardiology, urology, obstetrics and gynaecology, radiology, general medicine, sports medicine, rheumatology, physical medicine and rehabilitation, pediatrics, etc.
a dedicated cloud and automated reports
With the Sonoreplay dedicated cloud, you can store your ultrasound images simply and securely. You can then access them from any computer with a unique login.
Sonoreplay automatically generates the report of your examination, saving you precious time while ensuring quality content and standardised to international standards.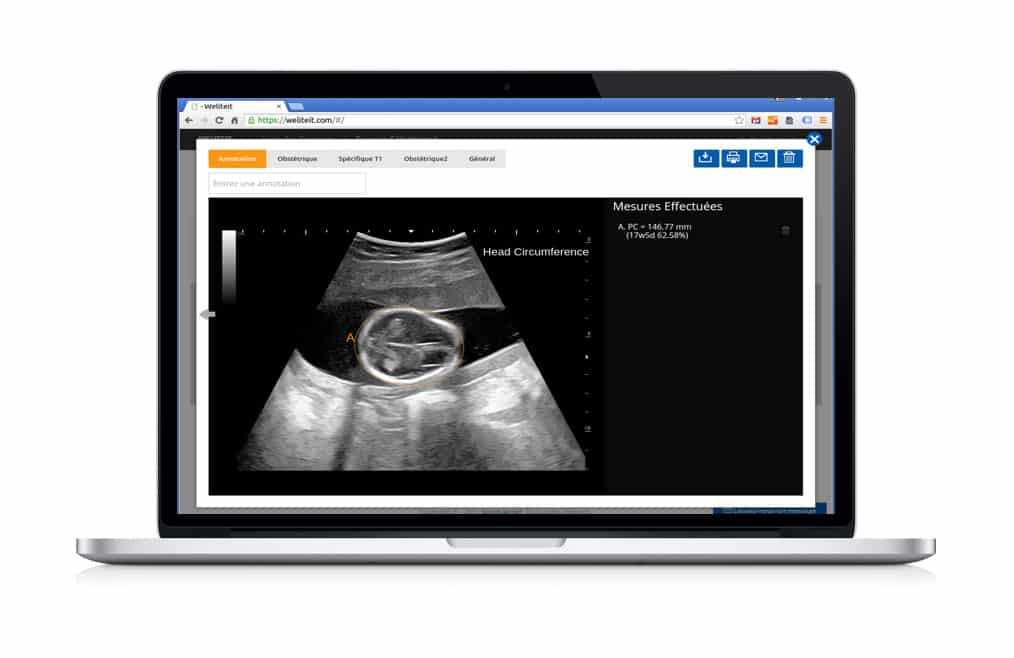 They trust us:
Over 6,400 doctors perform ultrasound daily with Sonoscanner
The Sonoscanner ultrasound scanner is very easy to use: one day of training was enough to get me up and running. I'm taking advantage of the Sonoscanner Academy to expand my skills.
"Sonoscanner ultrasound scanners are distinguished by their portability, ergonomics and unparalleled image quality. That's why we chose them from our special experiences."
My Sonoscanner portable ultrasound scanner is really very efficient and allows me to write my reports directly from the scanner. Being able to train myself thanks to the Sonoscanner Academy is also a real added value
"I could not do without my Sonoscanner in my daily practice. Ultrasound provides essential support in many common indications and helps to advance the diagnosis."
Contact us to :
Book a free demo,
Request pricing information on our ultraportable ultrasound scanners,
Receive a quote adapted to your project,
Our engineers are at your disposal.