EMERGENCY cOVID-19
Equip your service quickly with an ultrasound scanner
Already more than 100 emergency departments are equipped with ultra-portable ultrasound scanners. Facing COVID-19, one objective: all hospitals and emergency departments must equip with ultrasound scanner to diagnose lung lesions and refer patients quickly
Benefit from the emergency plan
| The ultra-portable ultrasound scanner, an indispensable tool for treating COVID-19 patients
The ultra-portable ultrasound scanner allows an immediate diagnosis of the clinical situation at the patient's bedside. Equipped with a pulmonary probe, it offers exceptional image quality. The tablet format allows a use in complete mobility, the operation in graphic mode (without button) allows a simple and fast disinfection after each examination which is essential in a context of epidemic.
You no longer have to move patients to the ultrasound department, no more waiting time and no more risk of further contamination.
| Ultra-portable ultrasound scanners of exceptional quality,
Sonoscanner ultrasound scanners are designed and manufactured in France, they meet the highest international quality standards (ISO 13485, FDA, MDSAP), more than 120 hospitals and emergency services use Sonoscanner ultraportable ultrasound scanners in the treatment of COVID-19 patients. Every day, they testify to the benefits they derive from them in order to provide the best possible treatment for their patients.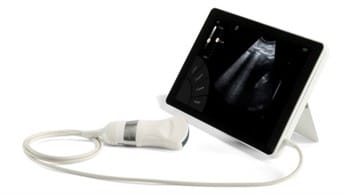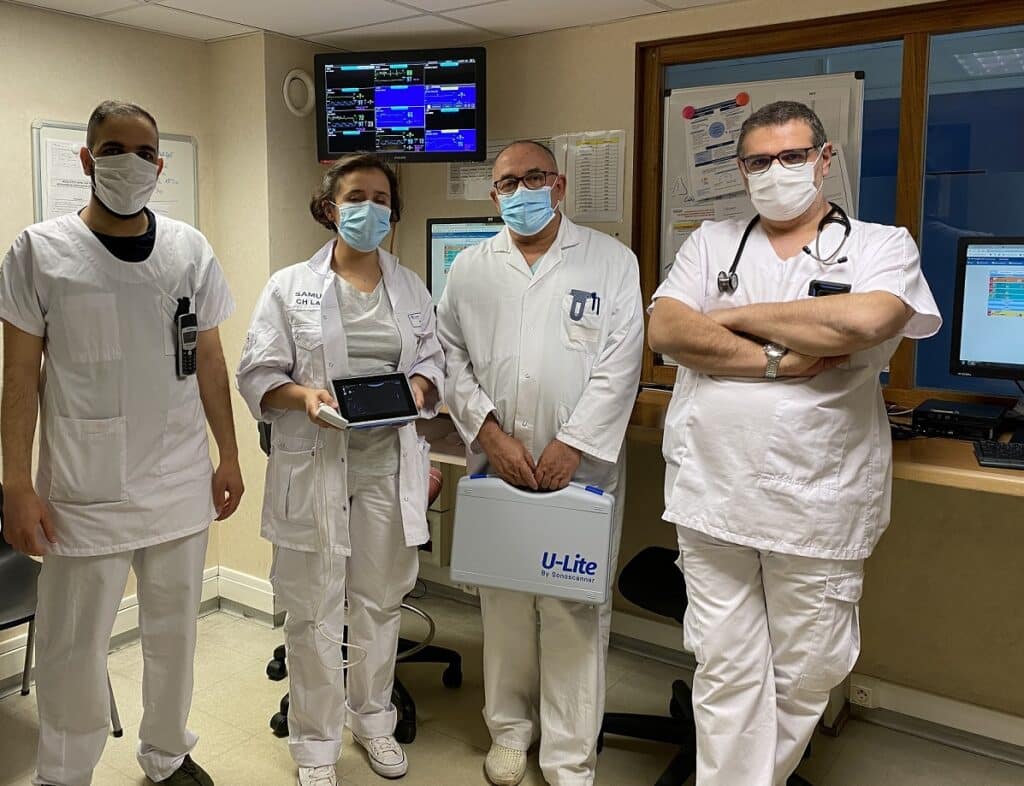 Emergency physicians at the Laon Hospital Center in France equipped with two ultra-portable ultrasound scanners last April.
| A range of equipment specially designed for hospitals and emergency services
Taking advantage of the experience gained over the past several months in hospitals and emergency services, Sonoscanner has built a simple offer that is perfectly adapted in terms of hardware configuration and services. Simply choose among the 3 proposed configurations to be fully operational very quickly. The proposed price list offers carefully studied and particularly advantageous conditions.
| A simplified ordering process and a privileged contact with a specialist
Everything is designed to allow you to benefit from an ultrasound scanner very quickly. An ultrasound specialist is at your disposal to help you and accompany you through the installation process. At any time, he will answer your questions and coordinate with you the installation procedures that best suit you.